---

Global Missions Command

Mil-Air Bases and Missions Schedule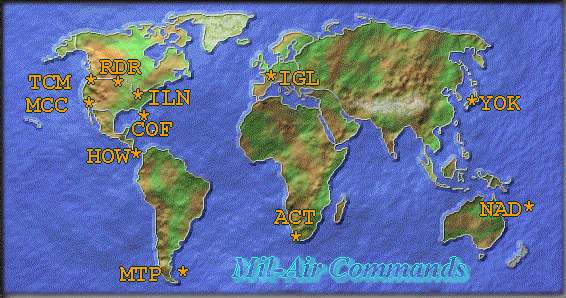 Click on the base names below for base details
| | | |
| --- | --- | --- |
| Mission Index | Mil-Air COMMAND | LOCATION OF MAIN BASE |
| # 100 - 135A | US - Northwest and Alaska Command | McChord AFB (TCM) - Washington |
| # 200 - 241A | US - Southeast and Caribbean Command | Patrick AFB (COF) - Florida |
| # 300 - 381A | US - North Atlantic Command | Airborne Airpark (ILN) - Ohio |
| # 400 - 455A | US - Southwest Command | McClellen AFB (MCC) - California |
| # 600 - 647A | US - Canadian Command | Grand Forks AFB (RDR) - North Dakota |
| # 800 - 829A | Asia and North Pacific Command | Yokota AFB (YOK) - Japan |
| # 900 - 953A | Central Operations Command | Howard AFB (HOW) - Panama |
| # 1000 - 1031A | European Command | Ingolstadt AB (IGL) - Germany |
| # 1100 - 1133A | South American Command | Mount Pleasant AB (MTP) - Falkland islands |
| # 1200 - 1233A | South Pacific Command | Nadi Intl. Base (NAD) - Fiji |
| # 1300 - 1323A | African Command | Cape Town Intl. Base (ACT) - South Africa |
Click on the base names below to check missions schedule
Mil-Air Central Operations Command
Howard AB (HOW): Howard AB is the main operations base of Mil-Air. M-A is in the process of updating and streamlining operations between all its worldwide bases and destinations using HOW as its Command Center.

HOW also serves as the Check Flight Command's main flight testing center. HOW Airfield is located north to the famous Panama Canal facing Pacific Ocean. Mil-Air has carried out many construction and development work within the HOW to accommodate its vast operational requirements. New 11000 feet runway has been built to accommodate M-A heavy lift aircraft. More details can be found in CFC pages.
US - Northwest and Alaska Command
McChord AFB (TCM): Located south of Boeing facilities of Tacoma, Washington, Mil-Air uses TCM base for its western US missions. Missions to Asia across north Pacific and Alaska are now operational. If TCM is not listed in your airports select nearby Olympia airport.
McClellen AFB (MCC): Located in San Francisco, California, east of Sacramento Intl airport, MCC base is responsible for the flights into the south pacific including Central/South America, Hawaii, Midway, and Australia. Missions between mainland USA, Central America, South America and South Pacific are now operational.
Airborne Airpark (ILN): Located in north east of Cincinnati,Ohio, ILN base is responsible for all trans-atlantic flights into England and rest of the Europe. It also operates full range of mainland USA missions.
US - Southeast and Caribbean Command
Patrick AFB (COF): Located in the south east of Orlando Intl airport, Florida, near the Atlantic coast. COF base operates missions into the Southern Hemisphere to include Cuba, and Caribbean area. COF is jointly operating South American flights with Falklands' MTP and Central America's HOW bases.
Grand Forks AFB (RDR): Located in North Dakota, west of Grand Forks Intl airport, RDR AFB is just 60 miles south of US/Canadian FIR border. Away from busy civilian airspace, RDR connects all major Canadian destinations with Mil-Air's United States route network.
Asia and North Pacific Command
Yokota AFB (YOK): Located 50nm west of Narita Intl. Airport, Tokyo, Japan, YOK is the primary Mil-Air base in the Asia - North Pacific theater. Flights are conducted from here to rest of the Far East joining McChord AFB / McClellen AFB of mainland USA, Fiji Island (NAD) base in the South Pacific and Diego Garcia Naval Base (DIO) in the Indian Ocean.
Ingolstadt AB (IGL): Located just north of Munich Intl. airport, Germany. Its central spot in the heart of Germany is a logical choice of location for Mil-Air flights into the European, African and Middle Eastern areas of operations. If IGL airbase is not listed in your airports you can use Munich Intl. (EDDM) airport as your Mil-Air Europe hub. For additional missions a second European base will be established in the near future.
Mount Pleasant AB (MTP): Located in Falkland islands in the southern Atlantic Ocean north-east of the Strait of Magellan. Controlled by Great Britain, MTP is 330 nm east of Argentina. Mil-air has shifted some of its Howard AFB missions to MTP. It serves all major South American destinations including extended missions to Africa, Europe, United States and over Antarctica to Australasia.
Nadi Intl. Base (NAD): Located in Fiji, which is an island country of the southwest Pacific Ocean comprising about 320 islands. NAD is responsible with Mil-Air's South Pacific missions, and it has streamlined operations between our other bases with additional missions to Hawai, New Zealand and Australia.
Cape Town Intl. Base (ACT): Located in South Africa, north-west of 'Cape of Good Hope' (southern most point of African continent), facing South Atlantic Ocean. ACT base is responsible with Mil-Air's African missions, and it has streamlined the operations between our other bases.
Pilots who wish to operate their own special missions using additional scenery/airports can submit it to GMC. With 'Global-Missions Command' pilots can operate missions to virtually anywhere in the world. Only the scenery installed by individual pilots will limit available destinations.

Global Missions Requirements:

Missions should originate and terminate from the same airport.
Aircraft type requirement should be noted.
Along with authorization, G-M Command will assign a mission number to each mission request.

Global missions are acceptable for minimum flying requirement.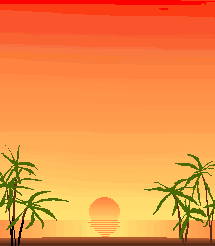 ---
© Mil-Air 98-2002

| Policy | Check Flight | Gearbag | Hangars | Flying Squad |

| Home | Mission Request | Mission Report | News | Aucon |